Business environment
Greater Nagoya is home to a comprehensive and advanced network of expressways, railways,
airways, and seaways that ensure efficient and effective delivery of goods and services.
By LAND
Located in the heart of Japan, Greater Nagoya offers excellent access to other large-scale economic zones in Japan, specifically Kanto and Kansai regions.
Traveling from Nagoya on the JR Tokaido Shinkansen, Tokyo can be reached in 100 minutes and Osaka in just 50 minutes.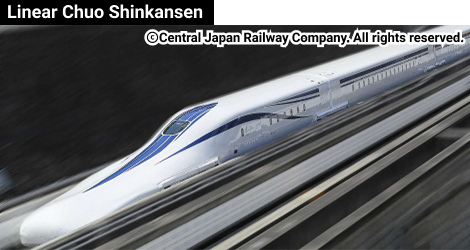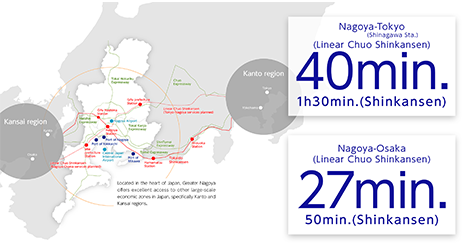 By SEA
Greater Nagoya maintains a superb port system that serves as a gateway to Japan and the rest of the world.
The Port of Nagoya is linked to about 170 countries and regions around the world and is one of the largest trade ports in Japan in terms of total cargo volume and trade value.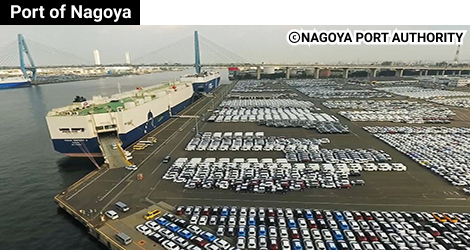 By AIR
Greater Nagoya is an ideal location for businesses that have their sights on the global market, with convenient access to major cities around the world.
Greater Nagoya is served by two major airports: Central Japan International Airport (Centrair), which is one of Japan's most convenient; and Nagoya Airport, which also handles smaller aircraft such as business jets.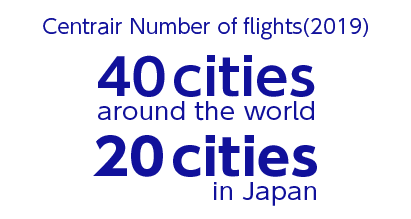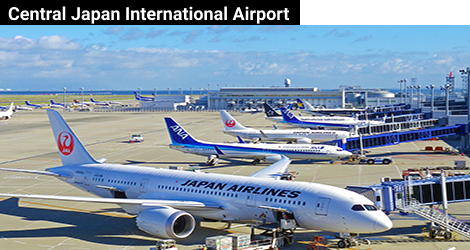 Although Greater Nagoya is only about 10% of the national total in terms of area and population, it is home to a large number of manufacturing companies that are leaders in their respective industries in fields as diverse as transportation equipment, electronic components, materials, industrial machinery, medical care, and ceramics, making it Japan's foremost "manufacturing zone. In particular, the transportation machinery processing and assembly industry accounts for 40% of the national share.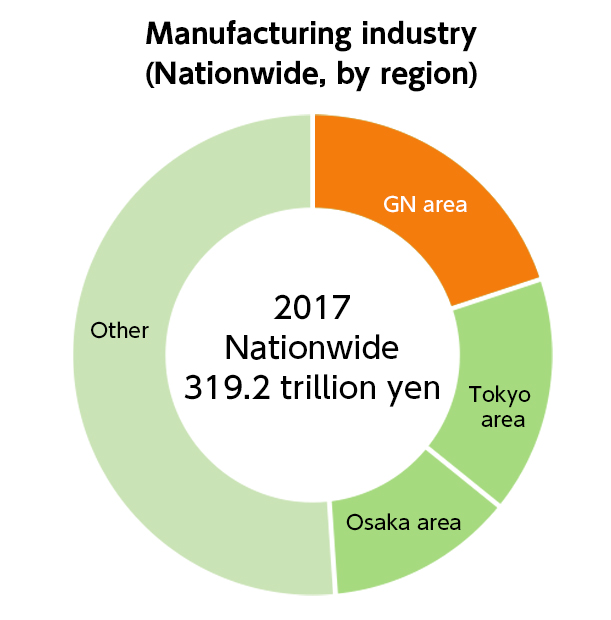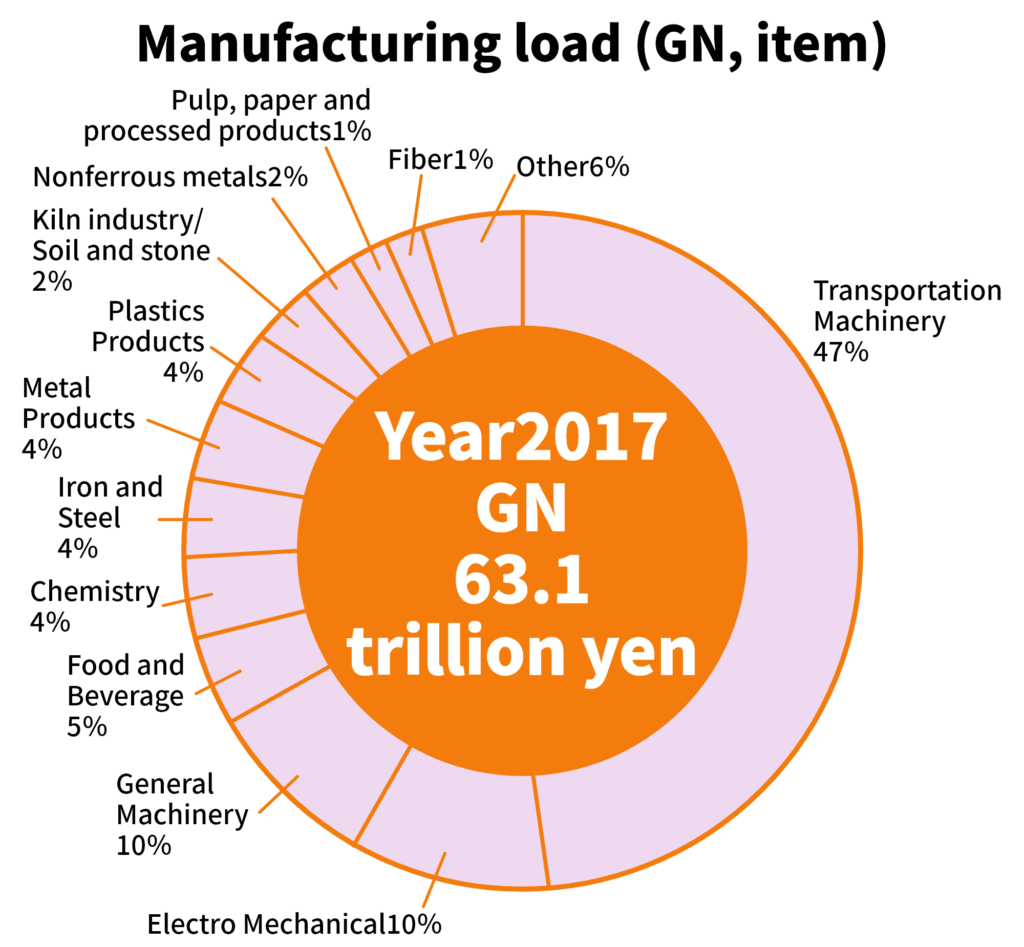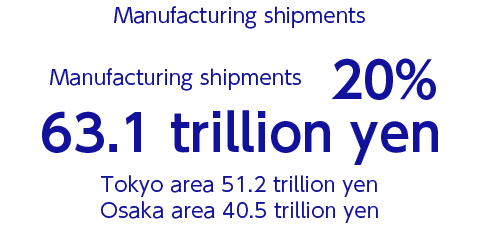 Universities and Research Institutes
Greater Nagoya is also home to a number of universities and research institutes that are engaged in world-leading research in advanced technologies.
Greater Nagoya's universities and research institutes are engaged in a variety of cutting-edge research. In these research activities, collaboration with companies is actively promoted, leading to the development of new technologies and the creation of new industries.
Nagoya University
Nagoya University seeks interaction with the world as a core university in a region with the most advanced cluster of manufacturing industries. To this end, it is proactively engaged in internationalization initiatives, as well as the further strengthening of its research and educational capabilities through a variety of collaborative projects. Its advanced research capabilities have so far produced six Nobel Prize winners for chemistry and physics.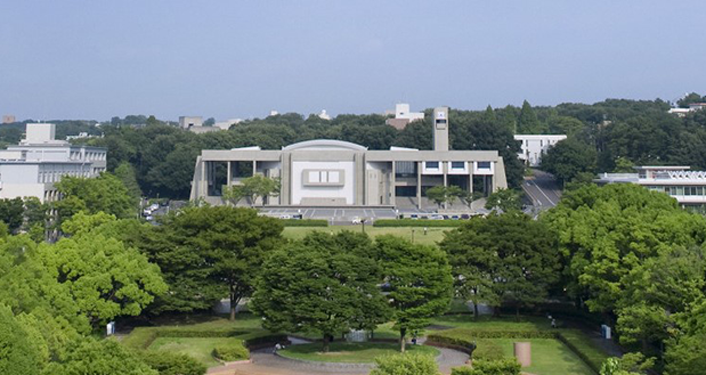 Gifu University
All of Gifu University's undergraduate faculties and graduate schools are located on the one campus. The university leverages this characteristic in both education and research, providing education focused on the development of human resources with advanced skills and expertise, high-quality research as a foundation for education, and internationalization efforts rooted in the local community. It has established the Gifu University Center for Advanced and Smart Die Engineering Technology as its general research hub for manufacturing
technology, where it conducts research o n dies and adjacent areas, and integrated practical education in manufacturing. The aims of this center to use IoT and AI to strengthen the universit y's research capabilities base d on success in production technology development in the die sector, to promote regional revitalization.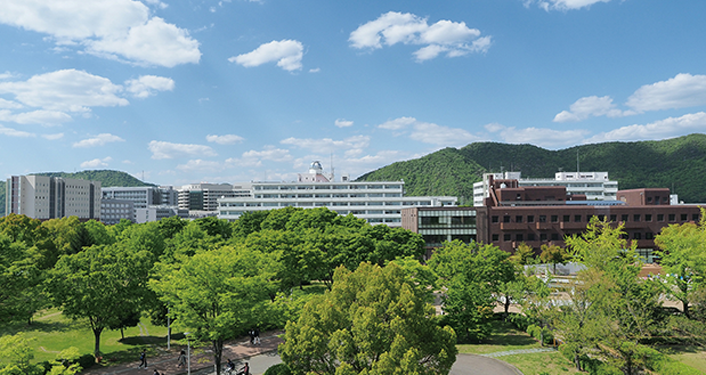 Mie University
In addition to its contributions to regional development through education and research, Mie University promotes two-way cooperation with the local community. In its research activities in particular, it strives to enhance its diverse and creative applied and basic research and seeks to pass on and further develop its own unique research domains. It is also engaged in general science and groundbreaking international esearch themes.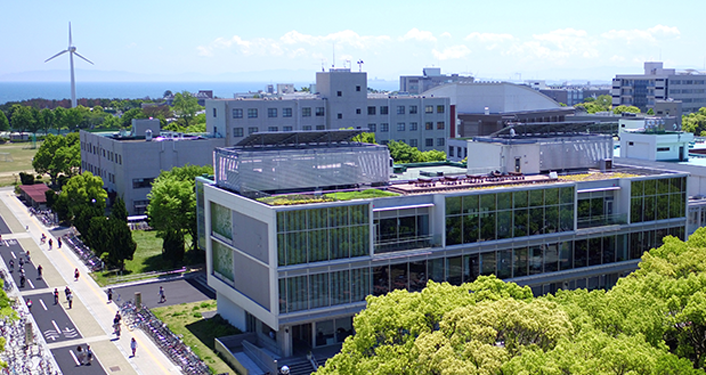 Nagoya Institute of Technology
Nagoya Institute of Technology connects "people," "knowledge," and "technology" through its networks with universities and research institutes in Japan and abroad, industry, government, and financial circles. It envisages smiles on people's faces with new technological value and, through the formation of hubs for communicating to the world, it aims to create innovation and develop global leaders as a comprehensive engineering university.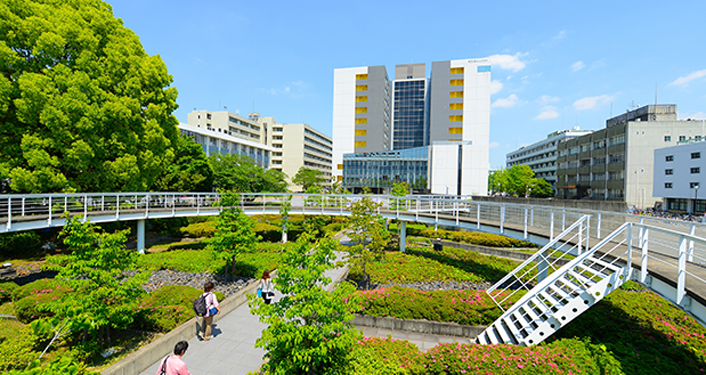 TOYOHASHI UNIVERSITY OF TECHNOLOGY
One of the a ims of Toyohashi University of Technology (TUT) is to develop its students, many of whom come from technical colleges, into both engineers and researchers who have a high degree of expertise and who possess outstanding technological development skills. TUT also strives to form a hub where industry-academia can meet and promotes collaboration with regional industry through joint research with the private sector and other bodies.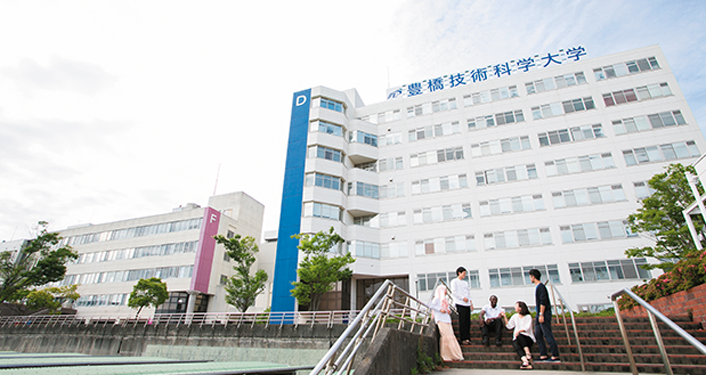 Primary universities and junior colleges for science and technology:
Aichi Prefecture
Aichi Sangyo University
Nagoya Zokei University
Toyohashi Sozo College
Toyota National College of Technology
Nagoya University of Arts and Sciences
Aichi Prefectural University of Fine Arts and Music
Aichi University of Technology
Gifu Prefecture
Gifu National College of Technology